So far this year, CPN's Community Engagement Council (CEC) has designed and implemented two programs that are encouraging leadership for both students and adults.
In January, a leadership pilot program (YouthPromise) was started on Saturdays for Sanders-Clyde Middle School students.  Twelve students enrolled in the monthly program and are engaged in topics such as effective communication, etiquette, and recognizing good leadership qualities in the adults and students they see every day.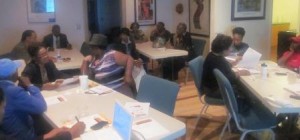 The Community Leadership Institute (CLI) started on March 2nd.  Eight Neighborhood residents are currently enrolled and the course will culminate with a community project decided upon by the Neighborhood residents.  If you would like more information on the Community Leadership Institute, please see the Community Leadership Institute Brochure.  You can also sign up  with the online CLI Application.
Both programs are stewarded by the leadership of CEC members Yvette Lambright and Aj Davis along with the support of all the CEC members and community partners.  Many thanks to this dedicated group of Neighborhood residents.  See more photos from these programs on our Facebook page.  And while you're there, don't forget to "Like" us!