Field trips have been a staple of modern American public education going back generations. Despite the logistical headaches, the safety concerns, the expense and hassle, schools have been exposing their students to myriad educational and cultural sites, providing kinesthetic experiences beyond the classroom.
In recent years, though, the field trip has been in decline.
Museums report steep drops in school tours. 100,000 fewer students pass through the Field Museum in Chicago than at its peak, a decline of roughly 35%. More than half of schools eliminated field trips, according to a survey in 2010-2011.
A variety of factors may be responsible. Schools, pressured to prepare students for standardized tests are reticent about losing classroom time. Budget cuts have trimmed expenditures for what might be considered extra-curricular activities. Greater focus on math and reading, and new demands for technological literacy, are straining school and teacher resources and leaving little time for school trips.
It Doesn't Have to Be That Way
Recent research at the University of Arkansas suggests the trend away from field trips might not reflect the best policy. In a scientifically-rigorous, double-blind study of children visiting a new art museum in rural Arkansas, it made the following discoveries:
Students from classes chosen randomly to visit the museum retained more information from the tours than did students learning the same material in the classroom.
 Students who saw the paintings firsthand on the tour displayed demonstrably stronger ability to think critically about art than the control group.
The broadening experience of visiting a museum infused the students with greater "historical empathy," i.e., they could better understand and appreciate how people from earlier times lived, thought and experienced the world.
Touring the museum increased interest in, and intention to make, future trips to the museum.
All of these results were particularly acute among student from high poverty schools.
Indeed, the less exposure students had in their home life to culturally-enriching excursions, like museum visits, the more valuable the school field trip proved, according to the study.
The Implications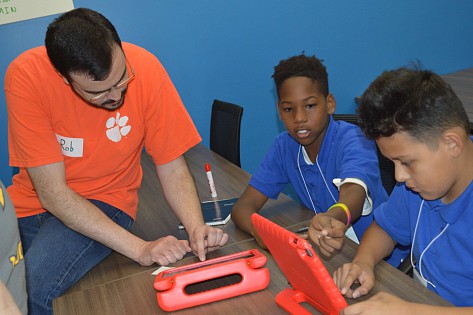 Field trips often require immense preparation and planning by school administrators and partners, in addition to costs that can't be borne by families living in the most impoverished neighborhood in the Lowcountry.
At the same time, the occasional field trip has been shown empirically to broaden students' horizons, improve their critical thinking, develop empathy for others and spark their interest in future learning. The desirability of periodic field trips would be a reasonable conclusion from the evidence.
Empirical evidence provides the backbone for all of Charleston Promise Neighborhood's programs. Based on data from this study and others with similar findings, CPN has hosted a series of off-campus enrichment for students in the four Neighborhood Title 1 schools.
Examples of CPN-Supported Enrichment
Camp Blackbaud, in collaboration with the Daniel Island-based software company, welcomes students to the company's campus for an intensive, two-day, experiential learning program. The student learn a variety of STEM skills, in addition to the value of collaboration, hard work and creative thinking.
Additionally, through its Expanded Learning Time afterschool program, CPN organizes visits to The South Carolina Aquarium for real world lessons about animals and habitat that mirror what students are learning in the classroom.
Field trips are a great equalizer for children from Title 1 schools and will continue to be part of the Charleston Promise Neighborhood effort to increase opportunities for students in neighborhood schools.