Charleston Promise Neighborhood has been selected by Glasspro as the WCBD-TV 3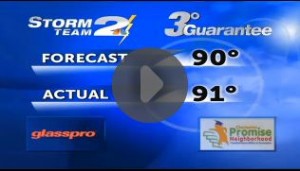 Degree Guarantee nonprofit beneficiary for the month of September.   Each evening in September that WCBD-TV Chief Meteorologist Rob Fowler correctly forecasts the next day's actual high temperature within 3 degrees, Glasspro will donate $100 to our organization!
According to Glasspro President Paul Heinauer, "All of us at Glasspro are especially delighted to support Charleston Neighborhood Promise as our WCBD-TV 3 Degree Guarantee nonprofit in September. This wonderful organization honors all of us with their dedicated commitment to helping our children grow up in communities that are healthy, vibrant and filled with opportunity."  Please tune in to WCBD-TV News 2 at 6PM each evening during the month of September for the latest 3 Degree Guarantee forecast and watch our balance grow!