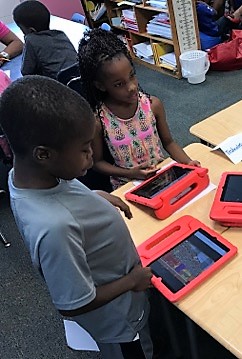 Charleston Promise Neighborhood's summer learning program returned on June 12.
Research shows that most of the achievement gap in reading between low-income and high-income children occurs during the summer months, when school is out.
Last year, Charleston Promise Neighborhood, in collaboration with Metanoia's Freedom School, provided literacy enrichment to 71 K-5th graders last summer at Mary Ford Elementary School. In addition, CPN provided resources for a separate literacy program focused on 13 at-risk Mary Ford first graders participating in Freedom School.
Research: Summer School is Critical
A study of 4,200 students found participation in the Virginia libraries' 2013 Summer Reading Program prevented summer reading loss, and its benefits were maintained two years later. Students who participated in two consecutive summer reading programs fared even better.
The impact of our program was dramatic for the children who participated:
75% of participants finished the program reading at or above grade level.
Two-thirds of the 3rd, 4th and 5th graders tested as "fluent" readers.
Of the thirteen 1st graders in the program, 12 improved their reading to at-or-above grade level.
The "summer slide" of literacy loss was eliminated for all 71 children.
This summer, CPN is hosting summer programs in partnership with two Neighborhood schools. Approximately 80 students at Mary Ford will participate in 4 weeks of summer learning. Mornings will focus on small group reading and mathematics using digital content, and afternoons will feature project-based learning that ties in with the academic block from the morning. Each room is staffed with a certified teacher, a teacher assistant, and a volunteer grandparent.
Beginning June 19th, CPN will provide small group reading with a certified teacher to 40 students participating in Metanoia's Freedom School at Chicora Elementary. The learning program at Chicora will run for six weeks.